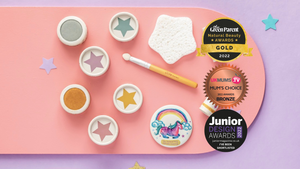 Natural...
gentle...
Non-Toxic
creative
With simple formulations and subtle colours, formulated with children in mind...
We have made it our mission to create natural non-toxic makeup allowing little ones to play creatively and imaginatively without damaging their delicate skin. Our Play Makeup is hypoallergenic and made with carefully selected ingredients formulated just for young children and its made right here in the UK! We only ever use  natural ingredients that are gentle on the skin without any harsh chemicals.
Our mineral eyeshadows, blushers and lipsticks are FREE FROM - Parabens, Talc, Mineral Oil, Nano Particles, Fragrances, SLS, Petrochemicals, Ferric Ferricyanide, Phthalates, FD & C Colours & Dyes and PEG's. Our makeup is suitable for children age 5 and above.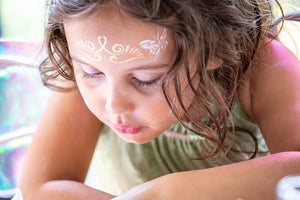 Just add a drop of water and ta daaa..... Natural face paint!
Just mix with a drop of water to our powders to create natural face paint! Let them have fun with colour and add a bit of natural sparkle! 
Our products are designed to easily wash off when play time is over!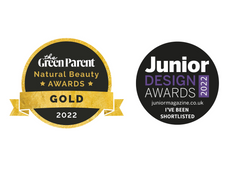 PERFECT FOR MY 7 YEAR OLD

We have had gifts of make up from cheaper/ less quality brands which have irritated our daughters skin ( as well as being garish colours), this palate is great for my 7 year old as she can experiment without having the irritated skin.
My daughter loves the colours especially the gold

Nicola July 2023
LOVELY GIFT

I bought this for my niece's birthday! What a lovely little set , perfect unique gift and I love that it is all natural! She's absolutely delighted with it! Wonderful gift

Anna - June 2023